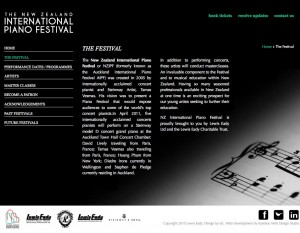 Great news for The New Zealand International Piano Festival (NZIPF) and Lewis Eady. Their piano festival has expanded to include all of New Zealand and their new website has gone live! Check out the site at www.nzipf.com.
The design and build of this website was a collaboration with Etc., Kelley Eady Loveridge's photography and design company, Sharon Seeto from Lewis Eady, and myself. Kelley created the design of the website and provided the beautiful photography. Sharon managed all of the content and kept us all on schedule. I built the site using WordPress as the content management system (CMS).
I normally choose Worpdress as a content management system for my clients because it's very simple to use. If you're used to using a program like Microsoft Word then you'll be able to use WordPress. After I conduct an hour of WordPress training, my clients are updating their websites without any problems and they're thankful to have the ability to do so. In the long run, using a CMS will save them money since they won't need to employ a web designer every time they need to make simple updates to their website. With WordPress they're also able to add new pages to the website giving them even more flexibility the ability to grow their web site.
This entry was posted on Friday, November 12th, 2010 at 5:26 pm
You can follow any responses to this entry through the RSS 2.0 feed.
Posted in: Announcements